Mis-articulation is not a disease
Mis-artculation is not a disease but a wrong habit developed during childhood. Children start speaking by imitating elder members of their families. In the beginning whenever children mis-articulate, parents and other family members should correct their pronunciation by repeating words. Parents and family members who correct the pronunciation of their children are successful in curing them and those who do not, their children become habitual of mis-articulation.

Children who mis-articulate are having normal tongue and other speech organs. However there is a mis-conception among some people that mis-articulation is due to the reason that tongue of such children is stuck somewhere in the mouth. If a person can move his tongue out of his mouth then there is nothing wrong with his tongue.
Treatment of mis-articulation
Candidates are taught about correct pronunciation of words and then it is practiced regularly in the Centre. Speaking correctly regularly, he becomes habitual of talking correctly.
Period of Treatment
If your child is of the age 5 to 8-9 years, you should come to the Centre for 2 days only. You will be explained about the treatment and the practice methods so as to be able to treat your child at home. If you wish to stay for more than 2 days, then you can extend the 2 days course to 5 days or 10 days course.
If your child is of the age 10-15 years, then you should come to the Centre for 10 days only. In the Centre the child will learn to speak correctly and practice regularly. You will get your child cured at home only by regular practice.
If you are more than 15 years and can live alone, you may come alone. In case you do not have sufficient time, you may come atleast for 10 days because after correcting pronunciation, you have to practice it regularly in the Centre. If you have sufficient time, you should come for the complete course of 20-30 days so that you may get full success.
Many people suffering from a lisp increase their talking speed in order to conceal their lisp, thereby also developing a stammer.
Fees charges for Mis-articulation
| | |
| --- | --- |
| 20 or 30 days full course | Rs. 20,000/- |
| 10 days course | Rs. 17,500/- |
| 5 days course | Rs. 15,000/- |
| 2 days course | Rs. 6,000/- |
Hostel facility and food charges will be Rs. 400/- per day extra. If you do not consider it appropriate to carry cash, a demand draft in favour of "India Speech Therapy Centre" payable at any nationalized bank in Jaipur, may be brought.
Note:-
The Cheques will not be accepted
Rules of the Centre
| | |
| --- | --- |
| 1. | Deaf & Dumb and mentally retarded students are not admitted in the Centre. |
| 2. | Children of lesser ages can get 100% success with the help of their parents only. |
| 3. | You can come anytime at your convenience. However, we suggest you to book your seat by informing us telephonically. |
| 4. | Fee and hostel & food charges will be charged according to stay in the Centre.. |
| 5. | Parents accompanying their children will also be given hostel & food facilities. |
| 6. | Consumption of liquor in the Centre and hostel or outside during the stay is strictly prohibited. |
| Note: | Students, at the time of admission in the centre, must produce a vaild document in support of their identity. |
Hostel facilities
Amer is the well known tourist place of Jaipur which is located at a distance of about 10-12 KM from the Railway station and Bus stand of Jaipur on Delhi road. Local buses and auto rickshaw to reach this place are available.
Our private building 'Yadav Nivas' is situated in Mohalla - 'Mehandi Ka Bass' on the Main Road in Amer.
Our centre, hostel & our residence are located in this building. All facilities in the hostel like rooms, cots, beddings, geyser, (in the winter season) fans, air Coolers (in the summer season) have been provided.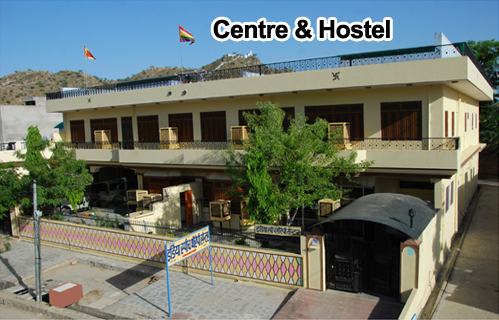 | | |
| --- | --- |
| Website: www.indiaspeechtherapyjaipur.org | Sh. Bhoop Singh Yadav (Speech Guru) |
| Email: info@indiaspeechtherapy.org | Dr. Akshay Yadav (MBBS) |
| Mobile No.: +91-9414062108, +91-9799180108 | Mehandi Ka Bass, Amer, |
| Ph.: 0141-2530108 | Jaipur, Rajasthan (India) |